Blood Collection Tube Customization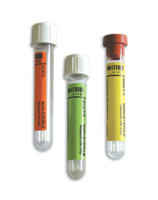 In many studies there is a need to use other types of blood collection tubes than available standard options, but to go beyond standard products is often expensive and time consuming. However, through our partner HTI we offer blood collection tube custom service with the possibility to deliver any size and reagent formulation with a delivery time of usually only 3-5 weeks from order.
Please consult the FAQ section on HTI:s homepage for more info.

Contact us to receive an order form: info@nordicdiagnostica.com

Attention:
All tubes are delivered unsterile and should be used together with a catheter of at least five inches in length, which is equipped with a multi-sample luer adapter (MSLA).
Protease Inhibitor Blood Collection Tubes
Many analytes including fibrinopeptide-A (FPA), prothrombin fragment 1+2 and thrombin/antihrombin III complex (TAT) are sensitive to degradation by e.g. serine proteases or metalloproteases. To avoid this, and to decrease results variation, blood collection can be done with our pre-formulated blood collection tubes with protease inhibitors.
Three different formulation options in sizes of 3, 5 or 10 mL are available. Delivery times is 3 – 5 weeks from order.
SCAT-1: 25 mM PPACK (Phe-Pro-Arg-chloromethylketone), 200 KIU/mL Aprotinin, 4.5mM EDTA, 0.1% Mannitol (w/v)
SCAT-2: 25 mM PPACK (Phe-Pro-Arg-chloromethylketone), 11 mM Sodium Citrate, 0.1 % Mannitol (w/v)
SCAT-875B: 75 mM PPACK (Phe-Pro-Arg- chloromethylketone), 0.1% D-Mannitol (w/v)

CTI Vacuum Collection Tubes
Corn trypsin inhibitor is a serine protease that can by isolated from corn kernels, amd a specific inhibitor of factor XIIa activity. This property makes it useful in studies that are aiming at elucidating tissue factor dependent coagulation activation.
SCAT-27 is a vacuum blood collection tube that has been pre-filled with CTI at final concentration of 50 ug/ml, and available in sizes of 2, 3 and 5 ml.