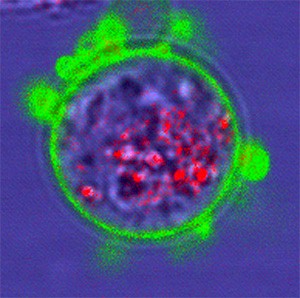 Lactadherin - more sensitive and specific than Annexin V
Lactadherin is a glycoprotein (≈50 kDa), also called Milk fat globule-EGF factor 8 protein (MFGE8), that functions as a cell adhesion protein. Lactadherin contains a phosphatidylserine (PS) binding domain with high affinity for the L-form of PS. The picture on the right side (adopted from Shi, J. et al 2006), shows a HL60 cell that has been costained with FITC-conjugated Lactadherin (green) and Alexa-647- conjugated Annexin-V (red).

It is clearly shown that while Annexin V is partly internalized, staining PS inside the cell (unspecific apoptosis/activity mark) to a large extent, Lactadherin remains on the outside, binding to membrane exposed PS (specific apoptosis/activation sign) in high numbers.
3 reasons to switch to FITC-Lactadherin

Highly specific binding to membrane exposed PS
Lower threshold of detection - even small amounts of membrane PS can be detected
Calcium independent binding to PS
Our unique FITC-labeled Bovine (BLAC-FITC) Lactadherin from Haematologic Technologies is a high quality product that can be used in flow cytometry and confocal microscopy using both human or mouse samples.