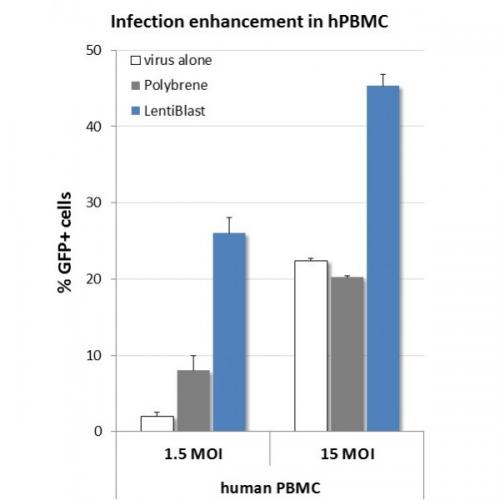 LentiBlast
Lentiblast is a patented chemical formulation that has been designed to neutralize electrostatic repulsion between an outer cellular membrane and viral particles. At the same time, lentiblast also improves the viral fusion process in a synergistic manner that improves lentivirus transduction efficiencies for all types of cells.
LentiBlast™ benefits:
Enhances infection and transduction efficiency of lentivirus
Non-toxic
Compatible with cell lines and primary cells
Allows using reduced amounts of Lentivirus (low MOI)
AdenoBlast
Adenovirus transduction requires presence of coxsackie adenovirus receptor (CAR). However, availability of this receptor can vary between different cell types consequently effecting transduction outcomes when using adenoviruses. AdenoBlast is based on an adenovirus binding peptide and acts as a substitute for CAR by binding the virus and connecting it to a cell with low CAR concentration.
AdenoBlast™ benefits:
Enhances infection and transduction efficiency of adenovirus
Ideal for permissive and non-permissive cells
Non-toxic (potential for in vivo applications)
Compatible with cell lines and primary cells,
Allows using reduced amounts of Adenovirus (low MOI), reducing the cost