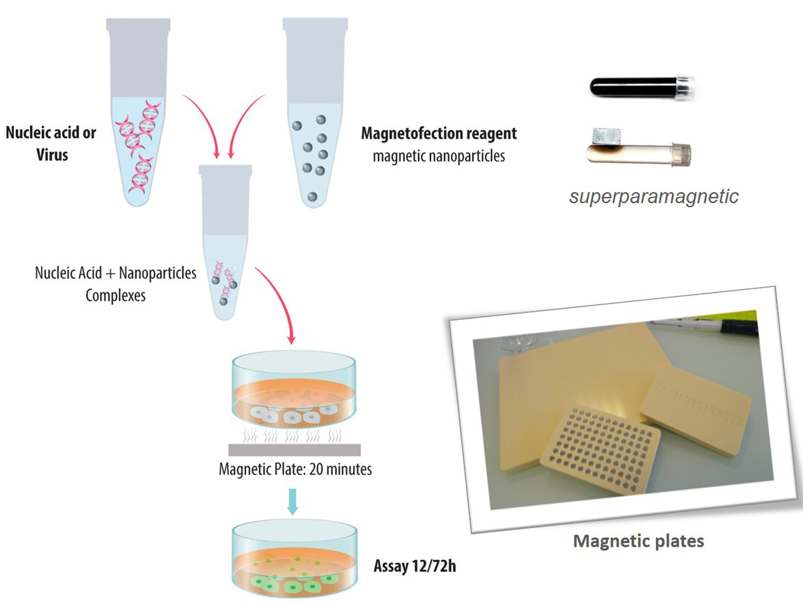 Magnetofection is a transfection technique where the material to be transfected (e.g siRNA, plasmid) is combined with magnetic nanobeads conjugated or not conjugated with transfection reagents. The nanobeads are fully biodegradable and has no effect on cell viability. When the combined nanobead – nucleic acid – reagent complex is added to the cells a magnetic plate is used to increase the concentration of transfection complexes relative to the cells. The relative concentration increase greatly enhances contact points between cells and reagent. It is important to mention that this method can be applied to both adherent as well as cell in suspension by pre-staining suspension cells with magnetic nanobeads prior to transfection.
Simple yet highly effective method
Highly dynamic method that can be combined with any transfection reagent
Very low cost compared to electroporation – based methods
Perfect solution for hard to transfect adherent cells
Very suitable alternative for suspension cells positively selected with magnetic beads

Since its introduction the method has been cited in over 800 peer-reviewed articles. Key features for its success is that the method combines great usability with efficiency at a low cost compared to other techniques like electroporation. With the use of Combo-mag literary any transfection reagent can be combined with magnetic nanobeads, a feature that makes this dynamic technique truly unique.

Example of Magnetofection Reagents for specific cell types and transfection material
NeuroMag – Enhanced transfection of Neuron cells
SilenceMag – for optimized siRNA transfections
CombiMag – Combine with any reagent and harness the benefits of magnetofection with changing protocol