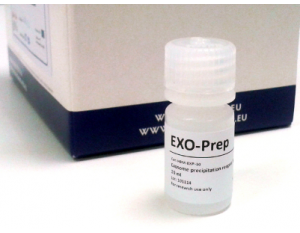 Exosome Isolation Tools
Ultracentrifugation, the current gold standard methodology for exosomes isolation, is a tedious process which often requires several of hours of centrifugation and normally does not work well of small samples for instance. To address these issues, our partner Hansa Biomed has developed and optimized several tools for isolating overall or specific exosome populations in an efficient, fast and cost efficient way.
Three main types of isolation tools are available:
EXO-Prep
New and efficient one-step method for total exosome isolation from biofluids (i.e. plasma, serum and urine) and from cell culture media.
ELISA Immunoplates
For exosome immunocapture using generic or specific exosome-associated biomarkers (i.e. tumor, neural and glial derived).
Immunobeads
Latex immunobeads for generic and specific exosome immunocapture from human biofluids or cell supernatants. Immunocaptured exosome can be recovered and used for downstream analyses.
References:
Zarovni, N., Corrado, A., Guazzi, P., Zocco, D., Lari, E., Radano, G., ... & Chiesi, A. (2015). Integrated isolation and quantitative analysis of exosome shuttled proteins and nucleic acids using immunocapture approaches. Methods.
Jia, S., Zocco, D., Samuels, M. L., Chou, M. F., Chammas, R., Skog, J., ... & Kuo, W. P. (2014). Emerging technologies in extracellular vesicle-based molecular diagnostics.
Expert review of molecular diagnostics, 14
(3), 307-321.