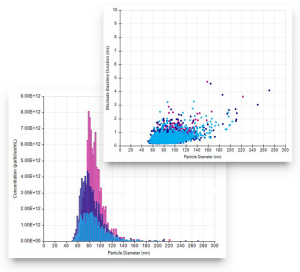 Tunable Resistive Pulse Sensing (TRPS)
Measure individual particle size, concentration, and charge, with unparallelled precision and accuracy. Tunable Resistive Pulse Sensing (TRPS) measures nanoparticles suspended in electrolytes on a particle-by-particle basis as they pass through a nanopore. This is a huge step forward as the more commonly used light scattering techniques only provide bulk estimates with low accuracy and very low precision. Used in over 45 countries, and included in over 1000 publications, TRPS instruments are a key requirement for analysing nanoparticles scientifically and correctly.

Obtain accurate concentration measurements
TRPS is by far the most accurate technique for measuring particle concentration. As with size, the concentration is always derived from direct comparison with calibration particles, providing certainty as well as accuracy. The accuracy, resolution and repeatability of the measurements mean that the usefulness of the particle number is enhanced well beyond providing a single number of particles per mL. Note that, regardless of the technique used, the concentration needs to be defined by the size range covered. The size profile should be presented with the number of particles in each size bin, in histogram format. The detail and repeatability of TRPS concentration measurement allow you to track and control particles through various processes which speeds up your research/development projects. Note that DLS is unable to measure particle concentration at all and NTA is only able to measure it on a semi-quantitative log-scale basis.