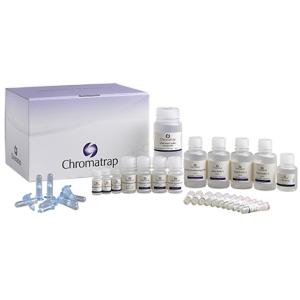 Chromatrap UniqSeq – the kit that combines ChIP with library preparation in under 8 hours

Cost-effective complete kit. All the reagents you need from start to finish. 24 ChIP's, 24 library preparation, 12 indices.

1-tube reaction. End-repair, A-tail and ligate in a single step. No clean-up required between reactions.

Validated in ChIP. Prepare libraries from any ChIP sample with ease and reassurance.

Integrated solid state system. Leading bead-free system for performing highly sensitive, effective ChIP with ease. Flexibility of size selection with bead-free workflow.

High-fidelity PCR mix. Minimise GC bias and obtain high library yields with high fidelity of original sample.

Indexing primers for Illumina included. Create high quality, complex libraries with low duplication rates.
Why is Chromatrap a better solution in general?
The principle of Chromatrap ChIP procedure is not based on beads. Instead all ChIP-methods are based on a filter-based solution where the solid phase (filter material) consists of inert porous polymer that can be activated to bind large amounts of protein A or G.

Two things stand out when comparing the Chromatrap to other method principles. The surface to volume ratio of the filter and sample is much higher compared to beads and the filter area that is not bound to either protein G or A is inert to protein and DNA. Therefore, the binding capacity of target protein is higher and the uptake of impurities (background) is lower.