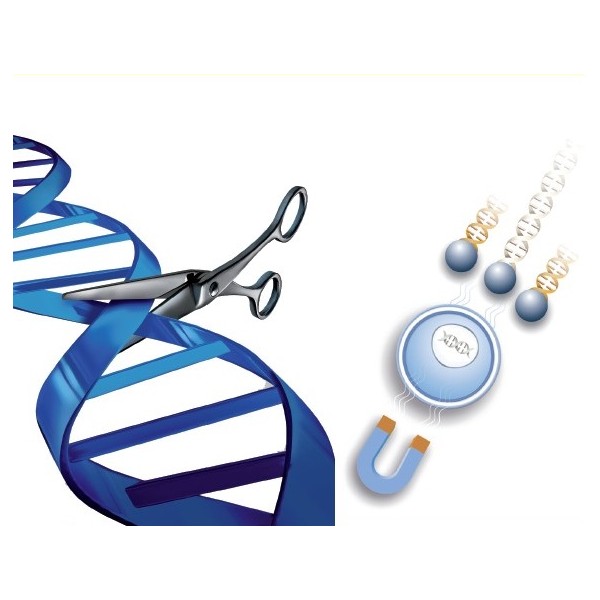 Transfection of CRISPR-CAS constructs relies on well functioning reagent that can support the entry of plasmids, mRNA and protein depending on your CRISPR CAS9 methodology. We have a number of tools that addresses this which could help you in your research efforts.
Depending on how you set up your CRISPR-CAS9 experiments, we have the products you need:
Polymag CRISPR – optimized for of plasmid(s) containing cas9 and guide RNA sequence or cotransfection of plasmid and nucleic acids
RmesFect CRISPR- for Cas 9 mRNA with purified gRNA
ProDeliverIN CRISPR – optimized for delivery of Cas9/gRNA RNP complexes.
If your CRISPR-CAS9 setup is based on virus transduction we strongly recommend ViroMag CRISPR which is a transduction enhancer specifically designed for CRISPR construct transduction.
CRISPR-CAS9 gene editing is opened up a new fontier in cell biology studies and is quickly replacing other genome editing techniques like TALEN and zinc finger nucleases based methods. Reason for its success includes a high degree of accuracy combined with simplicity and a substantially lower amount of off target hits.
In nature the CRISPR system is in fact a type of acquired immunity used by prokaryotic cells and its use in genome editing was fully described and demonstrated in 2012 by Zheng et al. There are at least 14 different Cas system available in nature, the Cas 9 system is a type II system that requires two types of guide RNA for Cas 9 protein to locate and remove a specific DNA segment. For laboratory use these two RNA has been combined into a chimeric version containing both RNA:s in single chain format.